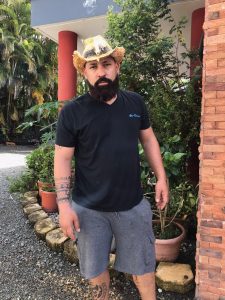 In conjunction with Hispanic Heritage Month, Oscar Gonzalez will speak about Puerto Rico at noon on Thursday, Oct. 3 in the Chalberg Theatre at Central Lakes College's Brainerd campus.
Gonzalez, a Brainerd resident, will share about what it was like to grow up in Puerto Rico and move to the mainland United States as a young man, as well as his impressions regarding ongoing issues and current events.
Gonzalez was born and raised in Eneas, San Sebastian, Puerto Rico. He graduated high school in 1994 and moved to the United States in 1996. He started his new venture in Chicago for nine months and then moved to Brainerd in the winter of 1996. After 1 1/2 years, Oscar moved to Camden, NJ for about a year to be with family and to work, as it was extremely difficult to find employment in Brainerd. He married Michelle in 2000, and they have one daughter, Talina. He has worked as a lifeguard, swim instructor, roofer, labor worker, and most currently dance instructor and owner of Spirit Movement Dance Studio. He is also a barber at the Men's Room in Brainerd.
For questions on this Cultural Thursday presentation or the Cultural Thursdays series, please contact the coordinator Tracey Kloeckl-Jiménez 218-855-8183.