Get all the up to date commencement info, including which speaker is speaking at what ceremony, here.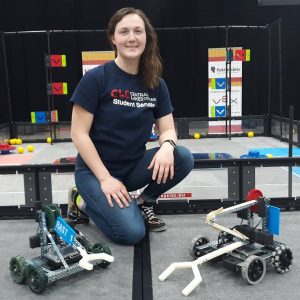 Abby Klein began attending Central Lakes College in the Fall of 2018 and will be graduating with an Associates of Applied Sciences degree in Robotics and Automated Systems in the Spring of 2020.
Abby has been active on campus advocating for students, communicating successes and improvements with staff and faculty and assisting students in finding their voice within the senate. In her first semester, she began attending Student Senate meetings and was ready to take over the President's position by her second semester as CLC. Since being elected President in 2018, Abby has served on committees focusing on technology, student life, and budgeting to assist students in having a great educational experience to prepare them for their careers. She also currently serves as the Robotics Club President and strives to get her peers involved on projects outside of the classroom.
Next year, Abby will be continuing her degree here at CLC and starting an internship in the Spring of 2020. When she isn't attending meetings or wearing her Presidential Poppy wig, Abby is often found working on the 3D printer or in the robotics lab ensuring her projects are to perfection.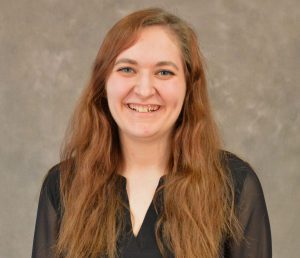 Hannah Swanson began her career at Central Lakes College in the fall of 2017 and is graduating with her Associates of Arts Degree. She has also completed the CLC Honors Program.
During her time at CLC, Hannah focused on learning and growing through persistence and hard work. An outstanding student, she earned a 4.0 GPA and modeled excellence for her fellow learners through reflective, deliberate inquiry—both academically and personally. In her Honors History class, for example, she interviewed veterans about their experiences transitioning back to civilian life in the 1950s and 1960s, and in Composition II she explored the relationship between people and the pets they embrace as family.
Hannah engaged her peers and community and focused on making CLC a more welcoming environment. She joined the Student Senate and served as a co-president of Phi Theta Kappa (PTK), the honors society for two-year college students. Hannah also participated in other leadership activities, such as volunteering for the Verse Like Water poetry series.
Hannah discovered a love for education while working at a daycare where she taught children to write their ABCs, count, ride a bike, and more. These experiences inspired her to pursue a career in early elementary education. Until she has a classroom of her own, however, Hannah can be found reading mythology in the library or talking with friends about the next song she plans to strum on her ukulele or mandola.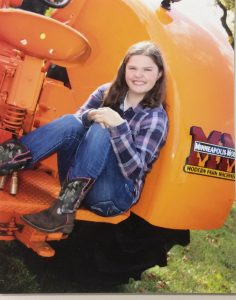 Katelyn Waytashek began her journey at Central Lakes College in the fall of 2016 and will be graduating with her Associates of Arts Degree. Additionally, she has completed the CLC Honors Program and earned certificates in welding and robotics.
Katelyn has been an active member of the CLC community, advocating for students and working to make CLC a better institution from top to bottom. In her first year, she signed up for the Student Senate and later volunteered in the Student Life Center. Along the way, she intentionally forged meaningful relationships with students, faculty, staff, administrators, and state legislators.
In 2018, Katelyn was elected Student Senate President and served on committees that focused on free educational resources, technology, operations, and facilities as well as spearheaded multiple initiatives on campus. Her leadership resulted in reduced student fees, additional support for local LGBTQ events, and a special day to celebrate and appreciate firefighters, emergency responders, police, and military service members.
Next year, Katelyn will bring her leadership skills to the Minnesota National Guard and continue her education at Ferris State University in Michigan. When not in meetings or wielding a gavel, Katelyn is often seen donning welding gloves and a helmet to make sure her welding bead is "just right."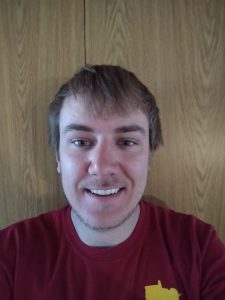 Tyler Weiss graduated from Bertha-Hewitt High school in 2015. After CLC, Tyler will start as an RN in the float pool at St. Luke's in Duluth. He'll also continue his education to earn his BS in Nursing this fall at St. Scholastica.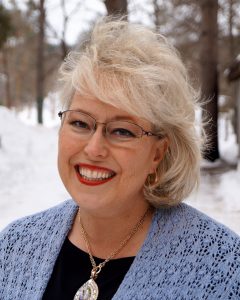 Tanya Hoting-Mrazek is an American Sign Language instructor at CLC. She was recently awarded the 2019 Board of Trustees Award for Excellence in Teaching, an honor given to only six educators this year throughout the Minnesota State system. In her classroom, she champions not only teaching her students ASL and promoting equity, but also helping them to become allies for the deaf community.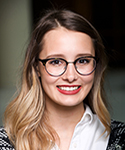 Ashlyn Anderson, Champlin, is a current student at Hennepin Technical College and works as a nanny and caretaker. Additionally, she is a current student ambassador with Hennepin Technical College, a PCA with Accra Care, and a grassroots legislative assistant with LeadMN. Gov. Mark Dayton appointed Anderson to the Board of Trustees in 2018.