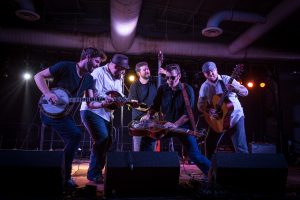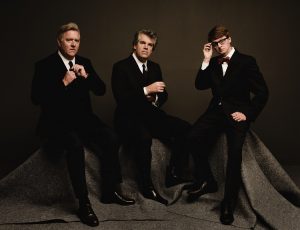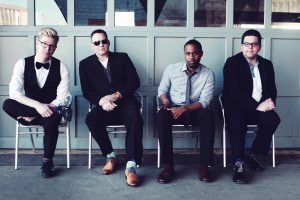 The Central Lakes Community Performing Arts Center has announced its Cultural Arts Series season for 2017-18, which will include rock and roll, ballet, tap dance, and drama. Series producer Patrick Spradlin calls it the largest, most diverse season in the Series' 12-year history.
"We sought a real blend of different musical genres, different kinds of artists, and I think we put together a season that has something of interest to just about anyone," Spradlin said in a press release. "Along with some crowd favorites from past Series, we've got three different dance companies, children's theatre, and a drama based on the real-life experiences of a soldier who fought in Iraq."
Kicking off the season on September 15 will be two shows by master entertainers Ted Manderfeld and Dave Eichholz, At 2 p.m. will be 'What a Wonderful World,' filled with beloved musical standards, spirituals and sing-alongs liberally sprinkled with comedy, costumes, and wit. This show is being made free to veterans on a first-come, first-served basis day of show. That evening, the duo return with their Deuces Wild Dueling Pianos show, a mix of music and parodies ranging from classic rock and country to rap and show tunes. This edgy, rowdy show begins at 7:30 p.m.
The Fabulous Armadillos return with their popular 'Takin' it to the Limit—the Music of the Eagles' on September 28. On September 30 the Continental Ballet will present 'Coppelia' for two performances, a matinee and an evening show, in the Chalberg Theatre. The ballet tells the story of a doll-maker who tries to bring a beautiful doll to life. The villagers discover this and a live girl dresses as the doll to play a trick on the doll-maker.
On October 6 Rogue Valley will perform. Known as Minneapolis' most dynamic live act, Rogue Valley is an internationally-recognized group whose music is inspired by the landscape and history of the region. October 19 brings the show 'One Night in Memphis.' This is a rocking concert tribute to legendary Sun Records artists Carl Perkins, Johnny Cash, Jerry Lee Lewis and Elvis Presley. Over 90 minutes of rockabilly, country, gospel and pure 1950's rock and roll music performed live and backed by authentic and energetic rockabilly backup band.
On November 3, Nashville bluegrass band The Hillbenders appear to perform 'The Who's Tommy: a Bluegrass Opry.' The show covers the original album from start to finish with audience participation, plus a set of original bluegrass tunes. November 9 is the Chicago-based Griffin Theatre Company's 'Ghosts of War.' The play tells the story of Ryan Smithson, who joined the Army Reserve when he was seventeen. Two years later, he was deployed to Iraq as an Army engineer. Based on Smithson's extraordinary and harrowing memoir, Smithson will attend this performance and will be on-hand for a talk-back after the show.
The seasonal favorite Rock 'n Roll Christmas show will once again return to Brainerd at the Cragun's Resort Sport Centre on December 15. And Tonic Sol Fa, an a capella, award-winning ensemble, will present their Christmas show, 'I Still Believe' on December 21 in the Tornstrom Auditorium.
The new year gets off to a fiery start when Davina and the Vagabonds return for two shows on January 6, at 2 and 7:30 p.m. They are followed by Buckets and Tap Shoes on January 26. A high-energy blend of music, dance and drumming from the streets of Minneapolis, these multi-talented performers take audiences on a rhythmic journey using percussion instruments including: tap shoes, found objects, drums, and buckets.
Featuring sons of the late music icon Bobby Vee, 'I Am, He Said: A Celebration of the Music of Neil Diamond' will hit the Tornstrom stage on February 2. "This is not a tribute show. This is a celebration of an amazing musical icon, one we all love and respect," says Tommy Vee. On February 9, the Ragamala Dance Company of Minneapolis will present 'Sacred Earth.' Ragamala has been hailed by the The New York Times as "soulful, imaginative and rhythmically contagious." Ragamala shows how Indian forms can provide some of the most transcendent experiences that dance has to offer.
Two shows in March will have audiences rocking in the aisles. The Holy Rocka Rollaz tear it up on March 9. Minnesota's own, the band brings back the sound, the look, the memories and nostalgia of one of America's most treasured eras featuring the music of the classic early rock 'n' roll and rockabilly of Elvis Presley, Buddy Holly, Chuck Berry, Johnny Cash and many more. The Fabulous Armadillos return to town on March 23 with a theme show yet to be announced. Last season's 'Guitar Heroes' played to a sold out Tornstrom crowd, and this concert (whatever it is) will no doubt prove to be every bit as popular.
On April 7, the incredibly talented vocal ensemble VocalEssence will perform 'River Songs and Tales,' featuring former WCCO anchor Don Shelby as Mark Twain. Through choral music and the spoken word, VocalEssence takes listeners on a musical journey of the past and present-choral masterpieces, favorite folksongs, traditional spirituals, and Americana-all paired with the words of Mark Twain.
April 13 will find The New Standards, a jazz trio that puts a new spin on old standards. The New Standards have grown into a globe-spanning adventure, filling theatre and clubs around the world, spawning several CDs, videos, cartoons, dance/theatre projects, and ancillary gewgaws that have charmed and delighted an ever-multiplying legion of faithful fans.
The Series will conclude when the Children's Theater Company of Minneapolis presents 'Seedfolks' for a public performance on Saturday, May 19 at 11 a.m. Where all her neighbors see a rat-infested vacant lot, nine-year old Kim sees a place to plant some precious beans-and, one by one, the people of her community sow seeds of hope amid the dirt and grit, tending dreams to full bloom.
Single tickets, packages, and group ticket bundles are available from the CLC Theatre Box Office at (218) 855-8199. Tickets can also be purchased online at www.clcmn.edu/arts