As part of his sabbatical, Central Lakes College Political Science instructor Steve Wenzel has actively attended and observed hearings in Washington D.C. His goal: To expand his knowledge of the confirmation of appointments by President Donald Trump to the Cabinet and for U.S. Ambassadors to foreign countries.
"I found these hearings fascinating," Wenzel said of the U.S. Senate confirmation hearings.
Photo: Wenzel and Gingrich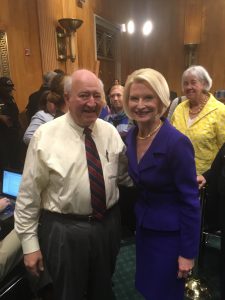 Political Science instructor Steve Wenzel is pictured with Callista Gingrich, wife of former U.S. House Speaker Newt Gingrich.
Callista Gingrich was nominated by President Trump to be the U.S. Ambassador to the Vatican in Rome, Italy. Wenzel attended the hearing of the U.S. Senate's Foreign Relations Committee as they considered the nomination of Callista Gingrich for the position.
"It was most interesting to hear and observe the tough questions put to Gingrich and 'vetting issues' by the U.S. Senators on the panel at the hearing," Wenzel said. "Following the hearing, I was able to visit for several minutes with Mrs. Gingrich and I congratulated her on a well-done performance in the face of tough questions."
Photo: Wenzel, Kennedy, Nolan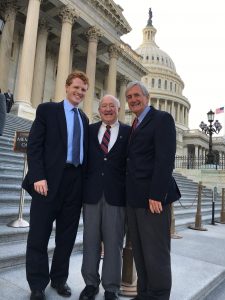 Political Science instructor Steve Wenzel is pictured with Congressman Joseph Kennedy, D-Massachusetts, left, and Congressman Rick Nolan, D-Minnesota, right, at the U.S. Capitol last week in Washington, D. C.
Joseph Kennedy is the eldest grandson of the late Robert F. Kennedy, who was running for president in 1968 and was assassinated. He is the great nephew of President John F. Kennedy.
"In my visit with Congressman Kennedy, I told him that as a college student in 1967 and 1968, I had met his grandfather many times as I worked as a college intern in the U.S. Senate and worked for Robert Kennedy's candidacy for president in 1968," Wenzel said. "It was a great honor for me to have met him and have the chance to visit with him."