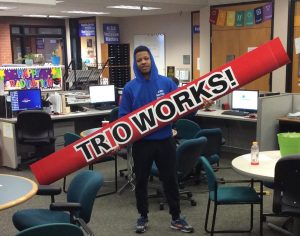 Central Lakes College student Avery Smith wants to inspire others with his story.
He's graduating this week from CLC with his A.A. Degree, and will have a slew of family members travel from Milwaukee to see him accept his diploma. But it wasn't always easy. Far from it, in fact.
Avery came to CLC two years ago after being recruited from his high school in Milwaukee to play Raiders basketball.
"When I came here to visit, I made my decision when I saw the school. I could see myself being here."
It was a tricky transition at first, though. "I was still in high school mode. I didn't care about school at all," he said.
All Avery wanted to do was play basketball. But when he was removed from the team, Avery was left in tears.
"I told my mom I wanted to come home," he said. But everyone told Avery something good was coming. And they were right.
Avery started going to CLC's TRIO lab more often. There, he was mentored through assignments and worked on his communication skills and leaving his comfort zone.
"When I first came to CLC I could never hold a conversation because I was too shy and I didn't think people could understand my slang," he said. But after chatting with new friends in TRIO, that fear disappeared. Today, Avery can walk up to anyone and start a conversation.
Avery has done a lot after leaving the basketball team. He's opened his own T-shirt business, selling shirts with his designs. He's started dabbling in photography. He's even earning extra cash as a dishwasher at a local restaurant. More importantly: He's found himself.
Avery says he owes a lot of the thanks to the TRIO advisors there helped him find a different perspective on life.
"CLC really changed my life," he said. "People really care about me. There are a lot of good people here."
"Avery had bumps in the road, but he was so persistent. When one way would not work out, he did not give up, he came up with another solution," said Jane Vogt, CLC TRiO advisor. "He is leaving CLC with his AA Degree, which will carry him far in his future. I know sometimes he was homesick but he always pushed thru it. I am excited to see him transfer to UW-Milwaukee."
Avery will soon start an internship at UW-Milwaukee as the basketball program student manager. He'll also start a marketing internship at a law office in Milwaukee as well.
Meanwhile, he'll be pursing a career in marketing. Eventually, Avery sees himself owning his own business, investing in the stock market and giving back to CLC and his community.
"I want to be a good person and be successful. I want people to look up to me and come to me for advice," he said.
Until then, Avery offers this advice to current students: Keep working hard in school. Remained focused and all will fall into place.