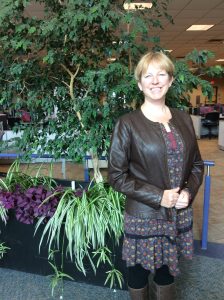 For Central Lakes College Communications instructor Kari Frisch, both education and CLC are in her blood.
Her father was a student at the college before teaching there himself for 38 years. Her mother taught child development there for several years. Kari herself grew up running the halls and playing in the woods during football games. She would eventually graduate and teach at CLC, just like her father.
Now, Kari is being recognized for her passion in teaching. She was recently awarded the 2017 Minnesota State Board of Trustees Award for Excellence in Teaching.
The Board of Trustees Awards for Excellence are system-level honors conferred annually to recognize professional achievement and to encourage the ongoing pursuit of excellence. The award proclaims, on behalf of the entire system, the Board of Trustees' pride in the dedication and accomplishment of faculty, who provide instruction that prepares students for their professional, scholarly, and civic lives.
Kari was chosen as the Central Lakes College Outstanding Educator of the year in December. Local Minnesota State campus winners were recognized April 19 at a ceremony in St Paul, where after an extensive portfolio process, Kari was further selected by the Board to receive the State 2017 Educator of the Year award.
Kari says she couldn't have gotten to where she is without her father, Ray Frisch, whose work influenced her expectations of what life and a career is like.
"I could see the passion that he had. I saw that hard work paid off in the form of students coming up to him and saying thank you," Kari said.
Kari saw the community and family her parents found in their colleagues at CLC. She saw true friends working together to collaboratively advance education. It's what she sees in her colleagues today.
"People here are really committed to their students," she said.
Receiving the Award for Excellence in Teaching is a great honor, Kari said.
"I feel that in a sense, it is a reflection on my parents as much as it was my work," she said. "It's important for me to share that with them."
CLC has a rich history of Board of Trustees Award for Excellence in Teaching award winners. Frisch joins recipients Adam Marcotte (last year's award recipient), Darci Goeden and Betsy Picciano.
"Kari is a member of an elite class of faculty – those who take personally the work of student success to provide both an extraordinary education and an equally extraordinary environment to connect students with rigorous content," said Hara Charlier, president of CLC. "She is one of the most dedicated and engaged instructors with whom I have had the privilege of working. Kari has certainly made many contributions to Central Lakes College and Minnesota State. Her level of commitment to her college and her students inspires all of us to reach higher, do more, and change more lives."
Everyone is invited to a reception to celebrate Kari's achievement May 9 from 1-2 pm in the Administrative Suite, C209, Brainerd campus.