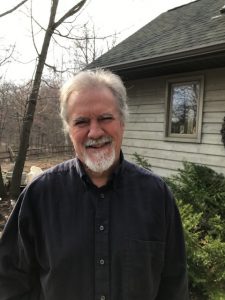 Verse Like Water, the visiting poet program of Central Lakes College, will host poet Mark Conway at noon on Friday, April 28 in the library, Brainerd campus. This will conclude the fifth year of programming for Verse Like Water.
Conway has won numerous national awards for his work, and his third book, "In the Middle Sky", will be published by Four Way Books in early 2018. His poems have appeared on the PBS News hour, The Paris Review, The American Poetry Review, The Virginia Quarterly Review and the Harvard Review.
Conway directs the College of St. Benedict Literary Arts Institute and has been an important evangelist for poetry and writing on the American literary scene for decades.
"Mark Conway's poems are dreamed in vivid, powerful language that engage the reader, and calls us in many senses to travel," said Jeff Johnson CLC English instructor and proprietor of Verse Like Water. "One moment you are at his kitchen table, hearing a voice speak of his love for his wife, the next you are in Rome watching a market being taken down, and suddenly you are walking with him on a spring day, witnessing 'the junk that a neighbor left in our yard.' There is a seriousness in his poetry, especially when it comes to addressing the solitude we feel when we lose people we love, but there is also hope, resolve, and, bemused humor regarding how weird it is sometimes to be a 'self.'  Mark is a master of imagery, and attendees who collect delightful figures of speech will not leave empty handed."
This event is sponsored by Minnesota Public Radio and will be held in the CLC Hassler Library. All Verse Like Water events are free and open to the public.