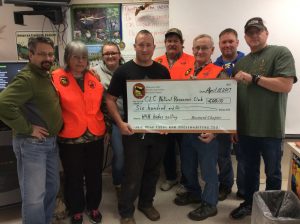 The Brainerd Chapter of the Minnesota Deer Hunters Association (MDHA) recently donated $600 to the Central Lakes College Natural Resource Club.
The donation stems from a long-term partnership, with the CLC Natural Resource Club working on MDHA's "Hides for Habitat" program. Students cleaned deer hides, which were collected from hunter-harvested animals at collection box sites all over the state during the regular firearms deer hunt.
The deer hides are cleaned and then sold to leather manufacturers. Each MDHA Chapter then gets the payment for hides, and uses it on their wildlife habitat projects they participate in. The MDHA Brainerd Chapter then donated part of those funds to the CLC Natural Resources Club as a part of their conservation and habitat efforts.
Pictured from left: Dr. Bill Faber, CLC Natural Resources instructor; Brainerd MDHA Chapter officer Diane Britton; Taylor Hershey, CLC Natural Resources Club president; Nicholas Johnson, CLC Natural Resources vice president; Brainerd MDHA Chapter officer John Mogensen; Brainerd MDHA Chapter officer Peter Lodermeier; CLC Natural Resources Club treasurer Jadyn Young; CLC Natural Resources Club secretary Gary Patton.