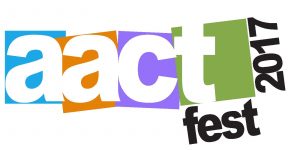 The American Association of Community Theatre Region V Festival will take place on the Brainerd campus of Central Lakes College on Friday and Saturday, April 28 and 29. Hosted by Brainerd Community Theatre, the festival will feature the work of eight different community theatre companies from a five state region, along with workshops covering a variety of topics.
"We are honored to be hosts for this festival," said Patrick Spradlin, director of Brainerd Community Theatre (BCT). "This year, the state of Minnesota will host both the regional festival, here at CLC, and the national community theatre festival later this summer in Rochester."
Companies from Minnesota, Iowa, South Dakota, Nebraska and Kansas will perform plays at the festival. These shows first competed at statewide festivals in their respective states, and were chosen to be best of those festivals, thus qualifying them to perform at the regional competition. Two shows from this festival will advance to the national competition, where they will appear with other shows from across the nation.
"If you've never seen a festival, this is a unique experience," said Spradlin. "The shows are edited versions of full-length plays. Each company will have a certain amount of time to set up, perform, and tear down. The companies are judged on their ability to meet the time constraints, and in the artistic merit of the productions."
Plays that will be performed include: "Pvt. Wars," "The Voice of the Prairie," "A Candle on the Table," "A Number," "Shakespeare's a Dick," "Mavis Pleads the Fourth," "On the Road to Verona," and "The Santaland Diaries."
"This is an interesting mix of theatre," said Spradlin. "Comedies, dramas, an original musical. Lots of fun stuff. In addition to the shows, we've got workshops on technical theatre, fundraising, acting, and dance."
All events are open to the public. Full festival passes, individual workshop passes, and individual show tickets are available to all who want to take part in the festival. Spradlin noted, "You can immerse yourself in all of the activities, including after-show parties, with a full festival pass or a day pass. Or you can attend individual workshops and show sessions. There's a lot of options for people to take part in the fun."
Workshop sessions are at 9 a.m. and 10:15 a.m. on Friday and Saturday. Tickets for workshop sessions are $15 per day (giving access to both workshops on that day). Play performance sessions, in which two plays will be performed, are at 1:15 and 6:40 p.m. on Friday and Saturday. Tickets for a single session are $5. Full festival packages are also available.
"This is a rare opportunity to participate in and see a lot of theatre in a short period of time," said Spradlin.
For more information or to purchase workshop tickets, contact the CLC Theatre Box Office at (218) 855-8199. Individual performance tickets can be purchased at the door as available.