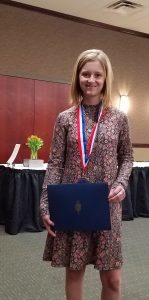 Central Lakes College student Brooke Moren has been named a 2017 Coca-Cola Community College Academic Team Silver Scholar. Moren, from Pierz, is a member of the Phi Theta Kappa chapter at CLC.
The Coca-Cola Scholars Foundation sponsors the Coca-Cola Community College Academic Team program by recognizing 50 Gold, 50 Silver and 50 Bronze Scholars, and providing nearly $200,000 in scholarships annually. Each Silver Scholar receives a $1,250 scholarship and a special medallion.
The Phi Theta Kappa Honor Society administers the Coca-Cola Community College Academic Team Program. Student scholars receive local, state and national recognition at Phi Theta Kappa's annual convention, being held April 6-8, in Nashville, TN.
High-achieving students are nominated for the award by campus administrators. An independent panel of judges considers academic achievement, leadership, and engagement in college and community service in the selection process.
Phi Theta Kappa is the premier honor society recognizing the academic achievement of community college students to grow as scholars and leaders. The Society is made up of more than 3.2 million members and nearly 1,300 chapters in nine nations.