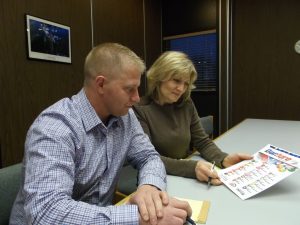 The North Central Regional Small Business Development Center (SBDC) at Central Lakes College was chosen as Minnesota's SBDC Excellence and Innovation Center of the Year for 2017. In 2016 the center helped 24 new businesses open and assisted businesses in the north central part of Minnesota in raising nearly $24 million in start-up and expansion financing.
The current director Greg Bergman came to the SBDC in 2001 with an extensive background in business and economic development. He manages the SBDC's consulting programs, which provide one-on-one services to business start-ups and existing businesses focusing on a large variety of topics. In addition to their main location, Bergman also manages four satellite centers to provide accessibility throughout the 11-county north Central Minnesota region.
"The quality of the consultants that work with our clients has been key to our success," says Bergman, "they have experience and knowledge to share that is some the best in the state."
One of the experienced consultants at the SBDC is Julie Anderholm. Since 1992 she has provided over 20,000 hours of consultation to help local businesses succeed. Anderholm is known for her ability to work with clients to identify and obtain funding to start or expand their small business. In the last 15 years, she has helped clients raise over $157 million in financing for their businesses. One business that knows firsthand the value of her advice is Danlure, LLC.
Danlure, LLC, a fishing jig manufacturer in Wadena ,was founded by Lee
(Ivan) Lorentz and his late father Dan Lorentz in 2011. Dan Lorentz designed and developed a fishing jig with a swivel hook, which gave the bait a more natural presentation to the fish. After Dan Lorentz passed away in 2012, Ivan Lorentz made it his mission to ensure the success of the Danlure fishing jig.
To do that, Lorentz turned to the SBDC for assistance with business planning, financial analysis and more. Anderholm worked with Lorentz on his business plans and financial projections to help ensure finances would not get overextended.
"Julie was great to work with," says Lorentz. "Her down-to-earth advice was really valuable to our business."
While the company continued to grow through sales at a variety of small retail outlets and its online store, a huge break came in early 2015 when a major sporting goods retailer decided to feature Danlure products in select stores throughout the Midwest.
Each year the SBDC in Brainerd provides about 3,500 consulting hours to more than 400 clients in eleven counties. To promote growth in their area, they help small businesses access SBA loan products, microloans, local incentive programs, investor groups and more.