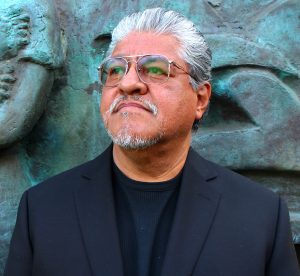 Verse Like Water, the visiting poet program of Central Lakes College, will host former Los Angeles Poet Laureate poet Luis J. Rodriguez on Wednesday, March 29.
The first reading will be held at Long Prairie-Grey Eagle High School at 8:45 a.m. and the second reading will be at noon in CLC's Chalberg Theatre. Both events are free and open to the public.
Rodriguez is a writer, critic and activist. He served as poet laureate of Los Angeles from 2014-16.
"Luis J. Rodriguez writes poems which celebrate, interrogate, and proclaim his love for the people of Los Angeles, California. While this lifelong romance is complicated, the accessible language he enlists to make his verses is available to all of us," said Jeff Johnson, proprietor of Verse Like Water and CLC English instructor.
"Luis is an evangelist for the human activities reading, writing, and the endless possibilities of literature. While the themes he addresses are as vast as L.A., his attention is especially devoted to those dwelling on the margins of America's cities, where it can be loud, chaotic, and dangerous. Luis doesn't just write about the poverty and crime he transcended as a boy, but instead regularly and fearlessly returns there to offer readings and workshops in schools, prisons, detention centers, and migrant camps."