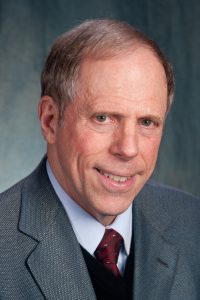 The next Rosenmeier Forum at Central Lakes College will focus on "Challenges to U.S. Foreign Policy in an Election Year."
The event will be at 7 p.m. on Monday, May 23 in the Chalberg Theatre, CLC's Brainerd campus. The event is free and open to the public.
Special guest Thomas Hanson, a former U.S. Foreign Service Officer with the Department of State, will address the audience.
As the November presidential election approaches, foreign policy will figure prominently in our debates. The next president will face many international challenges upon taking office in January 2017. These challenges include the Middle East, where conflicts in Iraq and Syria and the rise of ISIS are impacting US relations with countries in the region such as Israel, Saudi Arabia, Turkey and Iran. China and Russia are asserting themselves anew in Asia and Europe. How should the U.S. respond? Sustainability issues, from climate change to explosive population growth, are straining many societies and contributing to the danger of failed states and the rise of violent extremism. Human rights remain a centerpiece of U.S. foreign policy, and within this field the rights of women are increasingly seen as key to democracy and development. And job prospects, indeed human labor itself, are being affected not only by global trade, but also by rapid technological change. In this forum, these and other challenges will be discussed in the context of the current stage of the 2016 U.S. presidential election.
About Thomas Hanson:
Thomas Hanson is a former U.S. Foreign Service Officer with the Department of State, whose diplomatic postings included East Germany, France, Norway, the Soviet Union, Sweden, and the former Soviet Republic of Georgia. He also participated in the opening of new U.S. embassies in Mongolia and Estonia, worked on the Foreign Relations Committees of the U.S. Senate and House of Representatives, and served as Director for NATO and European Affairs at the Atlantic Council of the United States in Washington, D.C.
Hanson currently serves as Diplomat in Residence at the Alworth Institute for International Affairs at the University of Minnesota – Duluth. He is program secretary of the Committee on Foreign Relations Minnesota and is also a member of the Great Decisions advisory committee at the Minnesota International Center, where he is a frequent Great Decisions speaker. He contributes to local and international media and is a board member of the Oslo Center for Peace and Human Rights (U.S. Foundation); Partnership for Change, an NGO based in Norway; the International Leadership Program at St. Thomas University; and the Cultural Entrepreneurship Program at the University of Minnesota – Duluth.
Hanson holds a BA degree from the University of Minnesota and graduate degrees from the Fletcher School of Law and Diplomacy; the Institute of Advanced International Studies in Geneva, Switzerland; and the National School of Administration (ENA) in Paris, France.