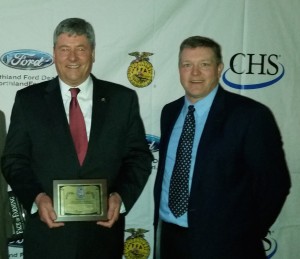 Central Lakes College president Dr. Larry Lundblad was honored with the Honorary State FFA Degree.
At the Minnesota FFA Association Annual Awards Program April 25, Lundblad was one of a handful of people to receive the honor.
"It was quite an honor," Lundblad said. "I grew up on a farm and was part of the agriculture community all of my life. We've done a lot of work at the college building the Ag Center and adding Ag as a program next year."
About the Honorary State FFA Degree
Eighteen outstanding teachers, individuals and companies who have demonstrated success and support of the FFA and agricultural education received honorary degrees from the Minnesota FFA. Each year, the Minnesota FFA Association recognizes the contributions of those who have made a significant impact towards the success of the membership and the organization. Many of these individuals have served in numerous leadership roles through career development events, the state officer team, the foundation or alumni events.