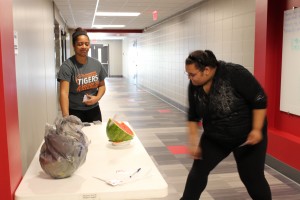 About three-dozen Central Lakes College Upward Bound students, staff and alumni attended the semi-monthly Saturday Academy April 16 at the college's Staples campus.
Students –from Long Prairie, Browerville, Staples-Motley, Pierz, Onamia, Isle, and Nay Ah Shing – participated in educational activities throughout the day.
Activities included:
A scavenger hunt throughout the campus, which allowed the students to identify different departments throughout the college and how they would utilize each one.
Game show-themed activities to test knowledge about the services at the college that would help them succeed.
Four TRIO alumni spoke about their experiences in both Upward Bound and in college.
For more information on the Upward Bound Program at CLC go to: http://www.clcmn.edu/trio-upward-bound-3/