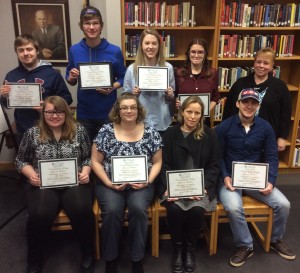 The Central Lakes College Learning Commons certified 11 student tutors this week.
The college is certified as an International Tutor Training Program through College Reading and Learning Association (CRLA). In order for the tutors to receive their Level 1 certification, they must participate in 10 hours of training and complete 25 hours of tutoring.
Picture:
Front row from left: Tori Esse, Melissa VanHeerden, Kelli Turcotte, Theodore Erickson. Back row: Christian Richards, Elliot Amick, Therese Turner, Hannah Maloney and Teri Duff, Learning Commons coordinator for the Brainerd campus.
Not Pictured: James Kugel, Tarna Squires and Kristen Poepping.