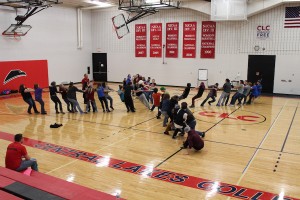 More than 400 northern Minnesota high school students were on the Central Lakes College campus last weekend to take part in the Northern Minnesota TRIO Day.
Several colleges and universities throughout the state brought students from Upward Bound, Upward Bound Math and Science, and Educational Talent Search programs to participate.
"This event is important because it allows students from similar background but from different areas to engage with one another while learning about how to be more prepared for college," said Adam O'Doherty, TRIO Upward Bound Assistant Director at CLC. "The mission of it has been to bring together schools from our northern region to provide an educational opportunity but more importantly to demonstrate the purpose and importance of our TRIO programs."
At the event, participants listened to keynote speakers, participated in college readiness breakout sessions, participated in team-building activities, engaged with college admissions professionals at the college fair, among many other events.
O'Doherty said students got a first-hand look into team building skills, cultural learning competencies, enrollment strategies, financial literacy, scholarship opportunities and study abroad programs.
Schools represented:
Bemidji State University, Central Lakes College, College of St. Scholastica, College of St. Benedict/ St. Johns, Itasca Community College, Mesabi Range Technical and Community College, Hibbing Community College, and the University of Wisconsin- Superior.