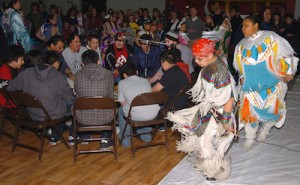 Central Lakes College will host its first pow-wow since 1990.
The event helps promote the college's mission to support learning, service, community collaboration and cultural enrichment, said Mary Sam, director of Diversity, Equity and Tribal Relations at CLC.
"American Indian CLC alumni, employees and students are excited that after nearly 25 years, we are hosting this event to honor Native American Heritage Month and to showcase the Minnesota Humanities Center's 'Why Treaties Matter' exhibit. Planning this pow-wow has served as a service learning and leadership opportunity for our students. We hope to continue this tradition for years to come."
The pow-wow will run from 1-3:30 p.m. Tuesday, Nov. 24 in the gym at CLC's Brainerd campus.
The host drum is Timber Trails. The invocation will be lead by Dorothy Sam and the emcee will be Byron Ninham. The posting of the flags will be done by the Mille Lacs Band of Ojibwe American Indian Veterans Post #53. Audience members will be invited to participate. There will be snacks available for purchase.
The pow-wow will coincide with the college hosting a new traveling exhibition called "Why Treaties Matter: Self-Government in the Dakota and Ojibwe Nations," which explores the Native nations in Minnesota and their history of treaty making with the United States. The exhibit will be on display Nov. 23-Dec. 18.
Bette Sam, chair of the Mille Lacs Band of Ojibwe Ladies Auxiliary, Mille Lacs Band Elder and Brainerd Community College (now CLC) graduate, said the pow-wow is an important event.
"There are many American Indians going to Central Lake College and it is good for all of them to be able practice our traditions and culture," she said.
Sam helped organize CLC's last pow-wow in 1990.
Freedom Porter, a CLC graduate and co-coordinator of the upcoming pow-wow, said attendees will experience an ancient form of celebration, while gaining education and insight to the pageantry.
"A pow-wow is just that: a celebration of life. How that fits into our lives at CLC is to celebrate the sacrifices we make to further our education," Porter said.
"It is important for people to come to learn more of the customs and traditions of their Anishinabe neighbors," Porter continued. "It's important for people to join their neighbors and celebrate. They should feel free to join in and dance as well. It is important to smile widely when the beat of the drum vibrates throughout them."
Interested in participating in the pow-wow? 
CLC is encouraging American Indian dancers from around the state to participate in the pow-wow. No need to RSVP. Registration for dancers will open at noon and closes at 12:45 p.m. Grand Entry will start at 1 p.m. sharp. Tiny tot dancers will be paid $5 and adults will be paid $10.
To coincide with the exhibit, CLC is hosting several events that are free and open to the public:
Opening ceremony: A program starts at noon Nov. 23 outside the cafeteria, CLC Brainerd campus. It will include an elder invocation, a brief presentation by the honorable Mille Lacs Band of Ojibwe, Chief Executive Melanie Benjamin will present, a drum ceremony and traditional fry bread will be served.
Men's Moccasin Game Exhibition: Runs from 11:30 a.m.-1:30 p.m. Dec. 1 in the gym, CLC Brainerd campus. American Indian Elders from across Minnesota will be teaching the Moccasin Game and encouraging male students and employees to participate in this 'traditional men's game.
Indigenous Women's Gathering of Voice, Song and Empowerment: Runs from 2-4 p.m. Dec. 1 in room E471, Brainerd campus. AnnaMarie Gutch, musician and former director of the Minnesota Indian Affairs Council, along with CLC's Meta 5 Program and Office of Diversity will host this 'empowering women' program for female students, employees and the community.
Why Treaties Matter presentation by Tadd Johnson: At noon Dec. 7 in the Chalberg Theatre, Brainerd campus. Co-sponsored by the Rosenmeier Center for State and Local Government.
Conversational Ojibwe mini lessons: The first lesson will be from 2-2:45 p.m. Dec. 8 in room C236, Brainerd campus. The second lesson will be from 4:30-5:15 p.m. Dec. 10 in room C237, Brainerd campus.