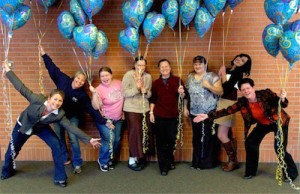 The Central Lakes College Foundation is asking alumni, friends and the community to help change the lives of students by donating during Give to the Max Day. The goal this year is to raise $40,000.
The Central Lakes College Foundation's Board of Directors, with 100 percent participation, has pledged $10,000+ in match money, so supporters can double their donation.
Donations can be scheduled right now through Nov. 11, or visit https://givemn.org/organization/Central-Lakes-College-Foundation on Thursday, Nov. 12.
For every donation made to the CLC Foundation on Give to the Max Day, there will be an entry into an hourly drawing for an additional $1,000 GiveMN Golden Ticket. Additionally, one donation made on GiveMN.org will be randomly selected to receive a $10,000 Super-Sized GiveMN Golden Ticket.
The more gifts generated on GiveMN.org on Nov. 12, the more chances CLC students have to benefit.
Last year, CLC raised $22,035 to support students in a variety of ways. This campaign included a $10 Alumni Giving Challenge, which established the new CLC Alumni Scholarship fund. Two $500 scholarships were awarded to both Joseph Lambrecht from Brainerd High School and Meredith Silgen from Crosby-Ironton High School.
The CLC Alumni Association is again challenging its alumni to participate in the $10 Giving Challenge.
In last year's Give to the Max Day, with this support from alumni and friends, CLC was also placed on the leaderboard for MnSCU's top 10 colleges and universities, and was awarded an additional $500 prize from GiveMN.
CLC employees also participated in Give to the Max Day last year. The following day, more than 40 thank you balloons and cards were personally delivered by past scholarship recipients to CLC employees who contributed during the giving event. The CLC Foundation looks forward to filling the Brainerd and Staples campuses again with balloons this year.