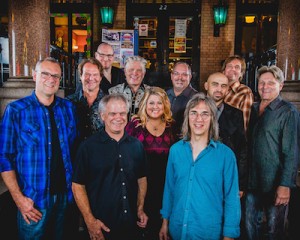 The considerable musical talents that comprise the Fabulous Armadillos will be on full display when the band brings their theme show 'Lucky Sevens' to the Tornstrom Auditorium on Friday, November 20. The show is part of the Central Lakes Community Performing Arts Center's Cultural Arts Series. The music begins at 7:30 p.m.
Fast becoming a huge crowd favorite throughout Minnesota and the upper Midwest, the Fabulous Armadillos are known for their theme shows and for their tributes to iconic music legends. Past Fabulous Armadillos shows include Motown Hits and, combined with Collective Unconscious, paying tribute to the Eagles, Pink Floyd, and the Doobie Brothers. The band's most recent show in Brainerd was the popular, "Stadium Rock," in April of this year.
The Fabulous Armadillos are back with a brand new show entitled 'Lucky Sevens,' featuring a trip through time through four musically transformative years: 1957, 1967, 1977 and 1987. Each year has a wealth of great songs and artists. Buddy Holly, Elvis, Chuck Berry, Bill Haley and His Comets in 1957; the Beatles, the Monkees, the Doors, Jefferson Airplane, and Tommy James and the Shondells in 1967; the Bee Gees, Electric Light Orchestra, Kansas, Manfred Mann, and Hall and Oates in 1977; Bon Jovi, U2, Billy Idol, Huey Lewis and the News, and Genesis in 1987, and many more. Each year was a definitive turning point and a pivotal time for change in the landscape of pop music.
As always, the Fabulous Armadillos will bring along a wealth of special guests, so they can perform spot-on recreations of the songs. Audiences will travel in time over this 30 year window of our history, focusing on these four individual years, which were some of the very best! Each Armadillos concert involves the core five-member band and special guests suited to the theme. The core band includes keyboardist Greg "Gary D." Armstrong, who toured worldwide with Bobby Vee and GB Leighton for 15 years; guitarist Paul "Stretch" Diethelm, who toured worldwide with Jonny Lang and opened for The Stones, Aerosmith, Sting and many others; bassist Mike Zeleny; amazing vocalist Billy Scherer; and Jay O'Donnell on drums.
The Fabulous Armadillos deliver a dose of fun and rock and roll. Audience members walk out of these concerts asking when the band is scheduled to return. Listeners close their eyes and are listening to all those vinyl records again.
Tickets for 'Lucky Sevens' are on sale through the CLC box office at (218) 855-8199, and will also be available at the door. Tickets can also be purchased online at www.clcmn.edu/arts
The show is sponsored in part by Hubbard Radio.
Photo by Steve Diamond Elements.