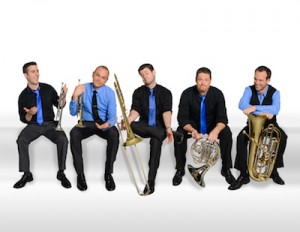 Presidio Brass, combining a brass quintet, piano and percussion instruments with fresh, original arrangements, will perform on Saturday October 24 at 7:30 p.m. in the Chalberg Theatre on the Brainerd campus of Central Lakes College. The performance is part of the Central Lakes Community Performing Arts Center's Cultural Arts Series.
Since forming in 2006, Presidio Brass has rocketed to success as the face of a bold new generation in brass entertainment. Their unique sound has become a trademark for the ensemble from San Diego, CA, captivating audiences everywhere.
Through their touring show of Hollywood's greatest hits, 'Sounds of the Cinema', these five young men present film music with a good dose of wit and humor that together have become hallmarks of every Presidio Brass performance. Presidio Brass has performed in over 40 states, conducted master classes at many of America's finest colleges and universities, and have been featured on National Public Radio.
Each member of the ensemble began his music career by joining their school's band program. Inspired by the dedication of their school music teachers, Presidio Brass came together with the primary mission to promote music education and music appreciation in youngsters. This is why at every opportunity, performances are coupled with a master class or school program for which the quintet volunteers their time.
Members of the Presidio Brass have performed with major symphony orchestras, including the Los Angeles Philharmonic, Las Vegas Philharmonic, Pacific Symphony and San Diego Symphony. When not on tour, they continue to perform with orchestras, maintain private teaching studios at local universities, arrange and compose new music, assist with public school music programs, and operate an annual summer music camp for students of all ages.
As part of their appearance, the group will conduct a brass workshop for high school brass players on Sunday, October 25 at 1 p.m. in room E471 on the CLC campus. For questions on the workshop, contact Steve Anderson at (218) 831-3652 or by email at sanderson@clcmn.edu
In addition to performing as a brass quintet, Presidio Brass performs regularly as a part of Millennia Consort, one of the nation's premiere brass, organ and percussion ensembles. Millennia Consort is active in commissioning new works as well as arrangements of popular classical music.
The members of Presidio come from various parts of the country, and have impressive music credentials.
Dr. Timothy J. Tesh is a Grammy-nominated performing artist, trumpet clinician and music educator. He has had the distinct pleasure of performing with Stevie Wonder, Natalie Cole, Patti Austin, Take 6, Quincy Jones, Dave Koz, Gordon Goodwin's Big Phat Band and many other music greats.
Mike McCoy has been the horn player for the Presidio Brass since its inception. In addition to Presidio, he currently performs as the 4th Horn in the Las Vegas Philharmonic as well as subs in the horn sections of San Diego Symphony, San Diego Opera, and Pacific Symphony. Mike has played lead horn with the traveling Broadway shows 'Lion King,' 'Wicked,' and 'Tommy' and is an active movie and commercial recording artist.
Jeff Harrigan picked up trombone at age 11 and has never looked back. Mr. Harrigan attended Towson University, where he earned his Bachelor's degree in Music Performance.  After graduating, Jeff was invited to join the Tony and Emmy Award winning show 'Blast! '
Scott Sutherland is the tubist, pianist and primary music arranger for the Presidio Brass. He is also a member of the Redlands Symphony, the Riverside County Philharmonic and has performed with the Los Angeles Philharmonic, San Diego Opera, San Diego Chamber Orchestra and the New West, Long Beach and San Diego Symphonies. From 2005-2007, he was principal tuba of the Colorado Springs Philharmonic. As a soloist, he has been featured with the San Diego Symphony, Riverside County Philharmonic, Burbank Philharmonic and the Idyllwild Arts Symphony Orchestra, and has appeared with such artists as John Williams, Stevie Wonder, Quincy Jones, Jerry Goldsmith, Alf Clausen, Christian McBride and Louis Bellson.
Sponsors for Presidio Brass include the Central Lakes College Music Department, Minnesota Public Radio (with MPR members receiving a discount), and the Arts Midwest Touring Fund, a program of Arts Midwest that is funded by the National Endowment for the Arts, with additional contributions from the Minnesota State Arts Board, the Crane Group, and the General Mills Foundation.
Tickets for Presidio Brass are available through the CLC box office at (218) 855-8199 or online at www.clcmn.edu/arts