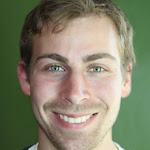 Erich Heppner returned to Central Lakes College to serve as Director of Student Life.
Heppner, a CLC alumnus himself, was first brought on as Director of Student Life in 2008. He led a dynamic program for five years before taking on a new opportunity at the University of Colorado Boulder.
Feeling a pull to come home to CLC and the Brainerd lakes area, Heppner returned to CLC this week. In his post, he'll create fun and engaging activities for the wide range of students at the college. He'll also work to increase the participation and effectiveness of student government groups on both the Brainerd and Staples campuses.
Heppner is looking forward to creating strong and lasting partnerships with community businesses and local leaders.
Originally from Warroad, MN, Heppner enjoys playing and watching hockey, soccer and broomball. He has two very large, friendly Bernese Mountain dogs named Ralph and Rascal. Heppner is excited to be back at CLC and plans to become very involved in the communities of Brainerd and Staples.