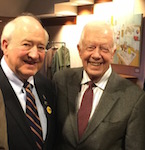 Central Lakes College political science instructor Steve Wenzel met with former President Jimmy Carter last week at the Carter Center in Atlanta, Georgia.
This is the second time Wenzel was invited as a guest to a Board of Councilors event. The first was in 1986 when the Jimmy Carter Library was dedicated.
Last week's event was in part to celebrate Books for Africa, a cause to which CLC donated a significant amount of library and faculty textbooks in 2014.
The guest of Patrick Plonski, executive director of Books for Africa, Wenzel was able to chat with President Carter during the two-day trip.
"I greatly admire President Carter. He is an excellent example and reflects the proper role of a former president," Wenzel said. "He truly cares about people. He has a great humanitarian spirit that makes for a better world."
Wenzel said he'll share his experiences with his students in his CLC political science classes.
During his visit, Wenzel was also given a personal three-hour tour of the Carter Center.
Wenzel said he was impressed with how detailed and digitally organized the Jimmy Carter Library is. Library staff was able to show letters Wenzel wrote to Carter dating back to 1979, as well as other correspondence from White House staff.