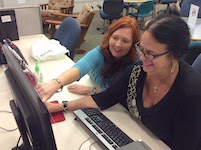 Angelique Hayes was shopping for her family's carefully budgeted grocery list one day two years ago when it hit her.
"I can't work my way out of poverty without an education," she said.
So she signed up for classes at Central Lakes College that day.
Hayes graduates this Spring with her AA degree. She was also recently awarded a $1,000 Minnesota TRIO scholarship, being one of only seven students in the state to be awarded the honor this year. She's only the second CLC TRIO student to be awarded the scholarship since the program began at the college in 2001.
Hayes is a non-traditional student, which is why she qualifies for TRIO support services.
She moved with her family to the Brainerd lakes area from Minneapolis seven years ago after her husband started experiencing health problems.
"We moved up here to be in a family home and to start over," she said.
To support her husband and teenage son, Hayes worked several part-time jobs (sometimes up to four at a time). A full-time position was harder to find here than back home, Hayes said. Plus she didn't have reliable transportation.
For years, Hayes and her family cut back on spending. She scheduled one trip to the grocery store every month to buy whatever food she could afford.
But that all changed two years ago during her monthly grocery trip. Hayes knew she wasn't any closer to getting out of poverty.
"I was doing odd jobs for five years and it wasn't working," she said. "So I walked into CLC and left registered for classes."
Her husband and son were surprised when Hayes returned home with the news, but they supported her completely.
Hayes' first class was with English instructor Jeff Johnson. He asked each student to share why they were there.
"This is my start over life," Hayes remembers saying. "I'm here to get out of poverty."
At that moment, Hayes said she knew she was in the right place and the right time.
While at CLC, Hayes started as the student who kept to herself, going to classes, doing homework in the library, and heading straight home to care for her husband and son.
But as she was gradually able to drop a few part-time jobs, she started building relationships with folks at the school.
Today, she's a work-study student in the TRIO office, where she's been since August. There, she helps fellow students and keeps the coffee and snack bar flowing, something she's now known for.
Hayes attributes her academic success to hard work, tenacity and planning.
"I'm so grateful to my TRIO advisors and fellow TRIO students for providing a sense of community and for making my time at CLC more meaningful and memorable. Leaving my work-study position in July will be very hard," she said, holding back tears.
Hayes says with great affection that her TRIO advisors are smart, generous, committed, and supportive women that she admires wholeheartedly.
In the Fall, she'll begin the Organizational Behavior Program at the College of St. Scholastica, Brainerd campus. Hayes wants to get a four-year Business Psychology Degree and eventually work in a field that involves growth, development, communication and therapy.
Hayes says she hasn't reached her goal of being out of poverty yet, but she knows she will. She's determined.
And she's one step closer with graduation.
Angelique Hayes' advice to students:
· Apply to TRIO if you qualify.
· Be organized.
· Use financial aid to buy a new computer if needed.
· Have only one job if possible.
· Do your homework in the library and use the tutors for help.
· Apply for financial aid and scholarships.
About TRIO Student Support Services:
The focus of TRIO Student Support Services is to foster an institutional climate supportive of the success of low-income, first generation college students and individuals with disabilities. Areas of additional support to increase retention, graduation and transfer may include academic advising, access to technology, financial advising, and coordinating access to career information, campus visits and transfer plans to four year institutions.
The grant was first awarded to Central Lakes College to begin September of 2001. The program is currently funded to serve 180 CLC students annually.
Apply:
CLC's TRIO program is currently accepting applications for the 2015-16 school year. Apply online: www.clcmn.edu/trio/