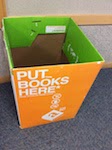 Those big, empty green and orange boxes sitting around campus could use some filling.
Bring in your unwanted and used books and textbooks and pile them inside. It's an effort of CLC's Phi Theta Kappa Club, which is hosting a Better World Book drive this spring.
The Better World Book Drive is an event where we as a campus donate books in support of non-profit literacy programs (Books for Africa, Room To Read, Worldfund, and the National Center for Families Learning).
So the Phi Theta Kappa Club is asking students, faculty and staff to consider donating their unwanted books and textbooks. Just drop them in the big, colorful boxes. It's that easy!
In the week after finals, the club will then ship them off to the Better World Book organization for redistribution.
Learn more about the effort here: www.betterworldbooks.com