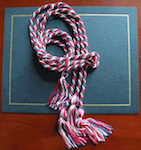 If you've served in the U.S. Armed Forces and are participating in the CLC commencement ceremony, be sure to pick up your red, white and blue patriot cord.
CLC, in coordination with the Veterans Resource Center, started a symbolic new initiative honoring the graduating military and veteran students.
The red, white and blue patriot cords are available to any graduating former or current active duty member, guard/reserve, or veteran student who would like to wear one during the commencement ceremony in May. These cords signify the esteem that CLC holds for our military and veteran community for their service and sacrifice.
Students interested in allowing CLC to honor their service with a Military & Veteran Patriot Cord should contact Theresa Harsha: tharsha@clcmn.edu or 218-855-8279.