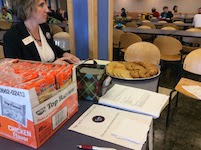 Ramen Noodles just may be the most popular go-to meal for college students. That's why the iCare hosted a Campus Community Connection event Wednesday, April 15 featuring (you guessed it) Ramen Noodles.
Each student got a free pack of Ramen and four recipe ideas for how to prepare it.
Below are those recipes, which staff combed the internet for.
Future Campus Community Connection events (held every Wednesday in April from 12-1 p.m.
April 22: Earth Day activities
April 29: Really cool car show.
Ramen Noodle Bake
4 packages Ramen noodles – one must be beef (reserve ONE beef flavoring packet)
1 – 26 ounce jar spaghetti sauce
1 lb. cooked ground beef or Italian sausage
2 cups mozzarella cheese, divided
3 1/2 cups water
Preheat oven to 400 degrees.
Break up ramen noodles into a greased 9 x 13 inch pan. They should cover the bottom of the dish.
Sprinkle the cooked meat over dry noodles (I seasoned my beef when I was cooking it). Pour the jar of sauce over the top. Sprinkle the beef flavor packet over the sauce. Sprinkle one cup of the cheese over the top of sauce. Gently mix together. Pour the water over the top. Cover tightly with aluminum foil and bake 40 to 50 minutes or until liquid is totally absorbed.
Remove from oven and remove foil. Sprinkle the remaining cheese over the top. Return to oven for 5- 10 minutes until the cheese is melted and bubbly
Ramen Noodle Chicken Chimichangas
4 Flour Tortillas
4 Fresh Chicken Tenders, Cut into Bite-Size Pieces
1 Pkg Chicken Flavored Ramen Noodles
1 Tbsp Olive Oil
1 Tsp Minced Garlic
1/2 Tbsp Chili Powder
8 Tbsp Shredded Cheddar Cheese
Cooking Oil
Instructions
Preheat oven to 350 degrees.
Cook Ramen Noodles according to the package directions. Drain all liquid from the noodles and set aside.
Meanwhile, in a skillet heated to medium-high cook chicken in olive oil along with the minced garlic and chili powder until no longer pink.
On each tortilla place 1/4 of the Ramen noodles, 1/4 of the to chicken, and 2 tbsp shredded cheese.
Roll up into chimichangas and place seam side down on a greased baking sheet.
Spray tops with cooking spray and bake for 10-15 minutes until browned and crunchy.
Ramen Omelet
1 pack of instant ramen noodles – any flavor (55gr)
1 tbsp cooking oil
2 tbsp onion, finely chopped
1/2 cup cherry tomatoes, halved
2 tbsp parsely, finely chopped
2 eggs, beaten with 2 tablespoons of water and a pinch of salt
Tomato sauce/sweet chilli sauce
Directions:
Drop ramen noodles into boiling water. Cook for 4 minutes (or according to the package instructions)
Drain the water and toss in the instant powdered stock included in the package. Mix well with a fork
Heat up an 8″ non-stick pan and drizzle cooking oil on it. Quickly stir fry chopped onions over medium heat for 2 minutes till they are translucent and toss in the tomatoes. Cook for another 1 minute
Add the noodles and chopped parsely into the pan and mix well with the other ingredients – cook for another two minutes
Try to arrange / distribute the noodles and tomatoes evenly across the pan. Pour the egg mixture slowly by circular motion starting from the outer edge of the pan. Try to cover all surface. If you can't, don't worry about it. Just swirl the pan around slightly before the egg sets and it will fill up the empty spaces
Lower heat and cook for 4 minutes. Slide a flat spatula under the omelette and quickly flip over and cook some more till both sides are browned
Serve with your choice of dipping sauce
Always try to add some fresh spices such as chopped leeks or minced garlic or some scallions. These will bring out invigorating flavor, rather than relying solely on the flavor powdered base that comes with the ramen noodles.
Crunchy Ramen Snack Mix
2 packages ramen, broken into small pieces
1 cup raw cashews
1 cup raw peanuts
1 cup cornflakes
3 Tbsp. vegetable oil (I used canola)
4 tsp. curry powder
1/2 tsp. cayenne pepper
1/2 tsp. fine salt
1/2 cup freeze dried wasabi peas
To make this recipe lower FODMAPs, omit the cashews and use (more) peanuts or walnuts. Also keep in mind ramen contains wheat. There is likely no substitute for ramen!
Directions
Preheat oven to 400 degrees. On a rimmed baking sheet toss ramen, cashews, peanuts, and cornflakes with oil until coated. Spread mixture in an even layer. Combine curry powder, cayenne, and salt in a separate small bowl; sprinkle over ramen mixture. Bake until golden brown, about 10 minutes, stirring 2 times in between. Stir in wasabi peas and let cool completely before serving.
TIP: Unless you are planning on using the peanuts and cashews later, shop for these ingredients in the bulk department so you only have to buy what the recipe calls for