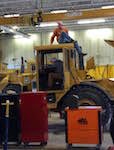 There are some cool projects brewing at the Staples campus. They involve heavy machinery, engines and, of course, robots.
Take a quick tour of the buildings via our Facebook page: www.facebook.com/centrallakescollege
But don't stop here – take a look for yourself. Stop by the campus and chat with the instructors. They're eager to show what's being crafted from inside the walls of the creative campus.
And while you're on the Facebook page, be sure to "like" it. Check out CLC on Twitter, too: @clcmnedu.