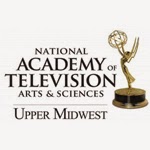 Eight Central Lakes College Videography students were nominated for the 2015 Midwest Emmy Awards.
The National Academy of Television Arts and Sciences – Upper Midwest Chapter announced the nominations March 9.
The 2015 Upper Midwest Regional Student Production Awards, or "The Midwest Emmys," is a regional event with divisions for high school, college and professional video production work. The region includes Minnesota, Wisconsin, North Dakota, South Dakota and Iowa. The winners
will be announced April 12 at the Radisson Blu Hotel at the Mall of America.
Central Lakes College nominees are:
• Brent Balmer (Bemidji), Mitchell McCallson (Royalton): "Yes Means Yes, No Means No" – Public Service (PSAs)
• Brandon Brown (Brainerd), Riley Nelsen (Brainerd), David Rossow (Sartell): "Cuyuna Mountain Bike Trails" – News: General Assignment – Light News
• Darren Chapman (Chaska): "The Unique Art Of Tattooing" – Non Fiction
• Bobbi Kruchten (Brainerd): "Survivor" – Public Affairs/Community Service
• Austin Wensloff (Roseau): "I Will Survive" – Fiction
For more information, go to: http://midwestemmys.org.