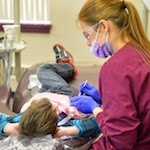 The annual Give Kids a Smile event at the CLC Brainerd campus served 64 children for tooth polishing, fluoride treatments, x-rays, oral hygiene instructions and dental exams. The dentist who participated were Dr. A. Rutman, Dr. C. Roberts, Dr. J Hiebert and Dr. C. Johnson.
Fifteen Dental Assisting students participated in the event and another six students volunteered at Rose Country Dental in Pillager.
Other volunteers included five licensed Dental Assistants who were CLC graduates and two Registered Dental Hygienists.
In addition to the Give Kids a Smile event, 260 toothbrushes were collected through a trade-in program. This event was sponsored by and partially funded through the MN Dental Association.