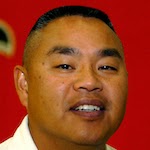 GRAND RAPIDS – Davaghndre Jones recorded 15 points and 10 rebounds during the Central Lakes College Raiders 87-65 Northern Division win over the Itasca Vikings Friday. It was win No. 350 for Raiders head coach Jim Russell.
"It's always been about the kids and the players," said Russell. "They are the ones who win the games. It started from Day One. We built this thing and the kids believe in it. We have great support from the school and community. We just want to keep this growing. It's not about the numbers, but about the process and who is in that process."
N'Gai Dixon added 13 points for the Raiders and Radamus Jones scored 12.
Story courtesy of the Brainerd Dispatch. Read more.