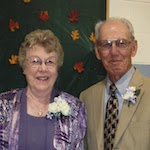 Clareen Eklund created the endowed Lester and Clareen Eklund Scholarship Fund with the Central Lakes College Foundation in memory of her husband.
Lester and Clareen Eklund retired to the Brainerd area to enjoy the outdoors – hunting, fishing, and traveling. Lester passed away in 2013 after a long battle with cancer. Lester received his education at the Dunwoody Institute as a non-traditional student after serving in the Navy for 2 years during World War II. Lester started his career with the State of Minnesota Natural Resources in International Falls, MN and retired from the City of Minneapolis as a heavy equipment mechanic. Clareen worked in accounting for various agencies until retiring to the Brainerd area.
Lester was aware of the need for financial support of students with an average grade point average and the need for a trade education. The scholarship will be awarded annually to a student in the CLC Heavy Equipment, Natural Resources, or Music program, which reflects their love of dancing.
Please contact the CLC Foundation at 218-855-8129 or foundation@clcmn.edu for more information or to make a contribution to the Lester and Clareen Eklund Scholarship Fund.