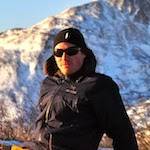 On
Thursday, December 4, 2014, at noon in the Chalberg Theater, Central
Lakes College will be hosting its fourth event in this year's Cultural
Thursdays Series. Staples native Michael Bach will join us viavideo
conference. He will speak on his work in assisting the Alutiiq peoples
of southern Alaska to revitalize their language and culture.As a senior
in High School, Bach lived in the Canary Islands (Spain) off the coast
of Africa as an American exchange student. He then went on to the
Monterrey Defense Language Institute, where he learned the Pashto
language and served our nation in Military Intelligence. He went on to
earn his B.A. in Languages and International Studies, at the College of
St. Scholastica and his M.A. in Northern Studies from University of
Alaska Fairbanks this May, 2014.

According
to the Alutiiq Museum Spring 2014 Bulletin (Vol. 18, No. 4), Michael
"Nanit'sqaq" Bach joined the Alutiiq Museum crew on May 19 to serve as
Language Archives Specialist and project manager. The Alutiiq Museum
just received its third National Science Foundation Documenting
Endangered Languages (DEL) grant. This new three-year archives
improvement project will increase access to Alutiiq language recordings
for both researchers and community members. Bach is now an Intermediate
fluent Alutiiq speaker and has extensive experience working with
archival resources at both the Afognak Tribal Library and the University
of Alaska Fairbanks archives. He will complete digital transfer of
audio and video recordings, develop the archive catalog, produce finding
aids, and assist in fieldwork and outreach activities. This has been
done via language club sessions, radio broadcasts, pod casts, museum
events, efforts on the part of the Alutiiq elders as well as others and
the development of language archives.
In
the abstract to his published Master's Thesis on Alutiiq Language
Revitalization, Bach writes "Language Club is one of many Language
Revitalization initiatives currently being used to reclaim space for
Alutiiq, a highly endangered Alaska Native language. Since 2003,
Language Club has been a site of learning and sharing for both Alutiiq
language learners, and Elders. […] Themes and subthemes identified
include: community, family-like structure, culture and tradition and
healing. Using Tribal Critical Race Theory (TribalCrit) to better
understand these themes, we find that Language Club functions as carved
out space within the broader community where participants are able to
engage in decolonization and resist hegemonic domination by the broader
community. (Bach, Michael James. "Community space for decolonization and
resistance: Kodiak Alutiiq language club participant perspectives,"
Thesis (M.A.) University of Alaska Fairbanks, 2014.
http://hdl.handle.net/11122/4537
)