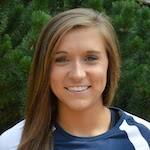 VIRGINIA – The Central Lakes College Raiders swept Mesabi on Saturday in a Northern Division match, setting up a key match with Northland on Wednesday.
Ashton Kapphahn knocked down 10 kills and Jenny Skoog connected for nine as the Raiders won 25-17, 26-24, and 25-18. Sam Schlangen (photo) tipped 19 set assists and also had three blocks along with Kapphahn. Central Lakes was led on defense by Ashley Abear who scooped up 13 digs.
It was the Raiders' fourth straight win and their first match since a 3-0 sweep of Itasca Sept. 24.
Story Courtesy of the Brainerd Dispatch.