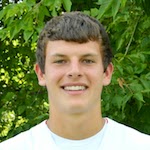 The
nationally ranked CLC Raiders football team traveled to Bottineau on
Saturday and earned another big win over Dakota College. The Raiders
beat the Lumberjacks 45-31 with a strong performance by the offense and
quarterback Jake Faber. Faber threw for 248 yards including a 31 year TD
pass to Steve Wroblewski and he also ran for a 10 yard score. The
Raiders improved their record to 3-0 and face Fond du Lac this Saturday
at Findorff Field in Brainerd.