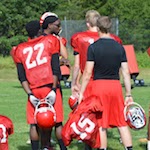 Brainerd, MN. – The Central Lakes College football team began preparation for the 2014 season with the first day of practice on Monday. The opening session lasted two hours with one of the largest squads in school history. 70 players are expected to compete for positions on the team. There are 26 returning players and many of them were key contributors last season.
Steve Wroblewski – All Conference WR from Denver Colorado
Sam Moriarty – All Conference WR from Rocori HS
Athen Ashton – RB from Farmington HS
Austin Rucks – Honorable Mention All Conference OL from Sauk Rapids HS
Josh Johnson – All Conference LB from St. Agnes HS
Josh Mantel – All Conference LB from Mora HS
Ajrian Stone-Caldwell – All Conference DB from Eden Prairie HS
Logan Novak – 2nd Team All Conference DL from Foley HS
Austin Krumwiede – Honorable Mention All Conference DB from Martin County West HS
Jake Kassulker – Honorable Mention All Conference DL from Brainerd HS
"This is our largest group of players both in returners and in first year recruits," said head coach Greg Medeck. "This is a great reflection on the current status of our program. We have worked hard to focus on increasing our retention and recruiting of quality young men. I am very excited to begin camp with this group of players and look forward to the development of our team over the course of the season. Many great expectations have already been set for this particular group of young men and it will be fun to work with them as they strive to accomplish all of their goals."
The 2014 squad includes forty-eight players from Minnesota, eight players from Wisconsin, six players from the US Virgin Islands, three players from Michigan, two players from North Dakota, two players from Colorado and one player from Florida.