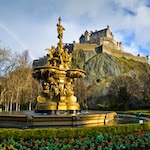 The Central Lakes College Community Band will depart on July 31 on a ten-day tour of England and Scotland. The tour will include four days in London, two in York and three days in Edinburgh with performances in venues from city parks, amphitheaters to the great hall of the Edinburgh Castle. The band will perform cooperatively with the London Metropolitan Brass Band in their first concert in London.
The band consists of thirty-five musicians from the surrounding area as well as from Fargo, Wadena, Staples and the Twin Cities area. Under the direction of Steve Anderson, the band will perform music from American composers such as Aaron Copland, John Williams, John Phillip Sousa, and Frank Bencriscutto
This is the second overseas tour for the band with a number of the members having participated in the first trip in 2011 to Prague, Budapest and Vienna. The band is in its 21st year having been founded by Anderson in 1993 under sponsorship of Central Lakes College. The CLC Community Band is open to any musician of High School or better skill level.
The band will perform a Departure Concert on July 30 at 7:00 p.m. in front of the south main entrance to Central Lakes College. Guests are asked to bring a blanket or a lawn chair. Admission is free.
Photo: Ross Fountain in Princes Street Gardens, with Edinburgh Castle on the hill behind.
iStock by Getty Images: Anthony Brown Photography