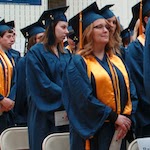 The Brainerd campus commencement event was held Thursday, May 15
at the Brainerd high school gymnasium. 290 graduates were honored at the 2014
commencement program. Approximately 2,200 family and friends of the graduates
were in attendance for this year's event.
The music for commencement was performed by the CLC Community
Band, conducted by Steve Anderson. Arlyn Sam, CLC student and Mille Lacs Band
member, performed a special Ojibwe honor song during the ceremony.
Platform guests included Dr. Larry Lundblad – CLC President,
Michael Amick – Dean of Computer Technology and Online Learning, Kari
Christiansen – Vice President of Administrative Services, Beth Adams – Dean of
Students, Connie Frisch – Dean of Allied Health, Nick Belinski – Student Senate
President, and guest speaker Gary Doud – 1973 CLC Outstanding Alumni.
Central Lakes College Brainerd received 1,111 applications to
graduate from eligible students for the academic year 2013-14 at both the
Brainerd and Staples campuses. 140 students participated in the Staples campus
commencement event on Wednesday, May 14.