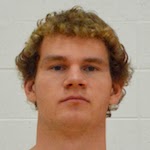 The Central Lakes College Raiders completed their first week of Northern Division play with a 2-0 record after wins over Fond du Lac on Wednesday and a 76-62 victory over Itasca on Saturday.
The Raiders clamped down defensively in the second half to widen a lead of just four points at halftime against an Itasca team that had won just one game all season.
John Jedneak led the Raiders with 17 points, and Alex Koch finished with 14. Danon Briggs also made it into double figures with 11 points for CLC.
Courtesy of the Brainerd Dispatch