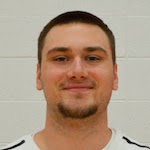 Alex Koch took a roundabout way to the campus of Central Lakes College in Brainerd.
The men's basketball team is thrilled he finally landed at CLC as he
helped the Raiders open Northern Division play Wednesday night with an
81-73 win over the Fond Du Lac Thunder.
After a rather lethargic first half, at the end of which CLC led just
36-35, Koch buried the first eight points of the second half and the
Raiders never led by less than three the rest of the game.
Courtesy of the Brainerd Dispatch