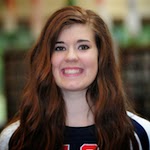 AVCA Announces Two-Year College All-America Teams and Player of the Year
The American Volleyball Coaches Association (AVCA) announced its Two-Year Colleges Women's Volleyball All-America Teams. Central Lakes College middle hitter Lindsay Monson (Pierz, MN) was named First-Team All-American by AVCA. Monson was the only Division III player selected to the first-team.
The AVCA, with its headquarters in Lexington, Ky., is managed by Associations International. The mission of the AVCA is to develop the sport of volleyball and its coaches. With a membership of over 6,000 and counting, the AVCA provides a professional network for those individuals and companies dedicated to enhancing and promoting the sport. Members include collegiate, high school, club, youth and Olympic coaches, as well as volleyball club directors. The AVCA provides education to volleyball coaches, recognition of elite players and coaches, promotion of volleyball competitions throughout the world, and networking opportunities for volleyball products and services providers.
2013 AVCA Two Year Colleges First-Team All-America
Name, School, Division
KC Fossum, Olympic, NWAACC
Crystal Schmidt, Blue Mountain, NWAACC
Piper Cantrell, Blue Mountain, NWAACC
Annie Mitchem, Irvine Valley College, CCCAA
Simone Henderson, Grossmont College, CCCAA
Tori Carroll, Foothill College, CCCAA
Burna Evangelista, Blinn College, NJCAA Div I
Morgan Lewis Tyler, Junior College, NJCAA Div I
Aly Dawson, Iowa Western CC, NJCAA Div I
Carol Grasso, Salt Lake CC, NJCAA Div I
Wendy Romero, Miami Dade College, NJCAA Div I
Andrea Tauai, Hillsborough CC, NJCAA Div I
Ana Jakovljevic, Northwest College, NJCAA Div I
Ana Helena Ribeiro San Jacinto College, NJCAA Div I
Kathia Sanchez Iowa Western CC, NJCAA Div I
BJ Specht Cowley College, NJCAA Div II
Kaprice Seever, Johnson CC, NJCAA Div II
Lindsay Monson, Central Lakes College, NJCAA Div III