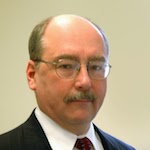 Steve Dornfeld will present at the Rosenmeier Center Forum on Monday, December 2nd at 7 pm at Central Lakes College's Chalberg Theater in Brainerd. Dornfeld, who is writing a biography of the State Senator, states that Gordon Rosenmeier was perhaps the most powerful Senator of his time.
Award-winning journalist Steve Dornfeld met Rosenmeier a number of times in the early 1970s and won a Mondale Research Fellowship to write about him for Minnesota History magazine. "He was a political power in the 1950s and 1960s in Minnesota and he left an impressive legacy. Former Gov. Rudy Perpich called Rosenmeier a 'visionary' and there is a large body of evidence to support that view."
State Senator Gordon Rosenmeier may have met with the Conservatives during his legislative career, but he called himself a "flaming liberal" and the Central Minnesota voters in that DFL majority district backed him for 30 years, from 1941 to 1970.
"These were the days of legislators running on a non-partisan ticket", according to Rosenmeier Center President Eric Klang. "Senator Rosenmeier left a full, rich legacy of lasting importance to the state of Minnesota."
"I remember the stories of the enormous impact he wielded during his tenure in office" said Dornfeld. "Gordon Rosenmeier's story deserves to be told and I feel privileged to have the opportunity."
The event is free and open to the public. Refreshments will be available before the program.