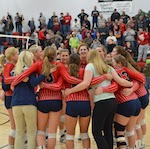 The 2013 Raider volleyball team advances to the NJCAA Division III national tournament by beating Northland 3-0 in the Region 13B championship game on Saturday, November 9.
CLC rolled through the tournament without losing a single game. The Raiders shutout Itasca on Friday night winning three straight games to advance to the championship game on Saturday.

The #2 nationally ranked Raiders improve their season record to 27-2 and will advance to the National NJCAA Division III tournament in Rochester, MN on November 15-16. The tournament is held at the UCR Regional Sports Center at Rochester Community and Technical College.