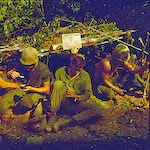 Courtesy of the Brainerd Dispatch by Mike O'Rourke, Associate Editor
Wartime memories — military veterans' Vietnam stories that are more than 40 years old now — were the subject of Tuesday's Center for Lifelong Learning session at Central Lakes College (CLC).
The U.S. Army veterans' tales mixed humor with poignancy as a largely gray-haired audience listened to Bill Wroolie of Brainerd, Steve Rosenow of Baxter, Butch Lund of Pine River and Ken Klose of Staples recall their experiences while fighting in Vietnam. The audience included other Vietnam vets as well as Jim Russell, CLC's basketball coach, who thanked the veterans for service and for their stories. Russell lived in Vietnam until he was almost 9, before his family moved to the United States in 1973.
Photo Courtesy of the US Archives