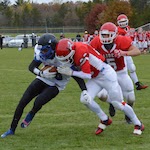 Central Lakes College advances to the MCAC semifinal game and will play Northland Community and Technical College on Saturday, November 2 in Thief River Falls, MN. The Raiders (#2 southern division team) advances to the semifinal game by beating MnWest on Saturday 55-26. Northland (#1 northern division team) earned the right to host the game with a win over Mesabi Range by a score of 24-0.
The Raiders are ranked #12 in the country in latest NJCAA Football Poll.
The semifinal winners will play in the State championship game on Sunday, November 9.
MInnesota College Athletic Conference 2013 Playoffs
2nd Round Playoffs
CLC @ Northland 1:00 PM
Vermilion @ Rochester 2:00 PM
1st Round Playoffs
Northland 24 over Mesabi Range 0
CLC 55 over MnWest 26
Rochester 27 over Ridgewater 15
Vermilion 30 over Fond Du Lac 27