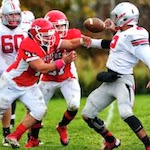 Courtesy of the Brainerd Dispatch • October 20, 2013
by Jeremy Lindholm Sports Writer
Quarterback Andrew Johnson scored the winning touchdown with 14 seconds left, capping a 93-yard drive, as the Central Lakes College Raiders rallied for a 28-21 win over the Ridgewater Warriors in the final game of the regular season Saturday at Findorff Field.
With the win, CLC secured a share of the Southern Division title with Rochester and Minnesota West. Minnesota West stunned previously unbeaten Rochester 32-24 on Saturday. All three schools finished 3-1 in division play.