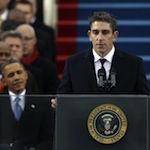 Verse Like Water,
the visiting poet program series of Central Lakes College presents inaugural poet Richard Bianco in the Chalberg Theatre at noon on September 13. A meet and greet, book signing, and workshop will follow the reading. This literary event is sponsored by the CLC English Department and the CLC Foundation. Admission to the event is a free will offering. The public is welcome to attend.
Richard Blanco, Acclaimed Cuban-American Poet
President Obama's Inaugural Poet 2013
"Mr. Obama picked Mr. Blanco because the poet's 'deeply personal poems are rooted in the idea of what it means to be an American.'" —Addie Whisenant, Inaugural committee spokeswoman
"Richard Blanco's speech invites the reader in with its search for home. His lyrics open doors onto his Cuban immigrant family, his father's early death, and his own migration from a life in Florida to a life in Maine. His speech houses a generous love of others and a persistent reach for what is absent." —Spencer Reese
BIO
Richard Blanco stands as the youngest, first Latino, and first openly gay person to serve as the Presidential inaugural poet. He joins the ranks of such luminary inaugural poets as Robert Frost, Maya Angelou, Miller Williams, and Elizabeth Alexander. On January 21, 2013, he read "One Today" as an honorary participant in the official ceremony. Richard Blanco's acclaimed first book, City of a Hundred Fires, explores the yearnings and negotiation of cultural identity as a Cuban-American and received the prestigious Agnes Starrett Poetry Prize. His second book, Directions to The Beach of the Dead won the PEN American Beyond Margins Award for its continued exploration of the universal themes of place and homecoming. His third collection, Looking for The Gulf Motel, won the Patterson Poetry Prize and Thom Gunn Award from the Publishing Triangle. He recently published commemorative chapbooks of One Today and Boston Strong with University of Pittsburg Press. His work has appeared in The Best American Poetry 2000, Great American Prose Poems, Breadloaf Anthology of New American Poets, and American Poetry: The Next Generation. He has been featured on CBS Sunday Morning, National Public Radio's All Things Considered, and Fresh Air with Terry Gross. Blanco is a Fellow of the Bread Loaf Writers Conference, recipient of two Florida Artist Fellowships, and is a Woodrow Wilson Visiting Fellow. A builder of cities and poems, Blanco is also a professional civil engineer currently living in Bethel, Maine.