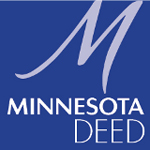 The North Central Minnesota Small Business Development Center (SBDC) at Central Lakes College (CLC) was recently awarded $42,000 per year for the next two years to provide management consulting services to small businesses in 11 counties of central Minnesota.
The funds were awarded through the Business Competitive Development Grant program at the Minnesota Department of Employment and Economic Development. Funds awarded under this program are designated for non-profit entities to help develop, strengthen and retain small businesses throughout Minnesota.
Grant funds awarded to CLC will be used to pay the cost of small business consultants to assist small business owners in five core management areas of business planning, marketing, cash flow management, business financing and business start-up. "These funds provide a critical investment into small businesses in our region" says Greg Bergman, SBDC Regional Director, "they allow us to bring the expertise of knowledgeable business professionals to assist small business owners and prospective small business owners."
The SBDC at CLC has been assisting businesses since 1987. In 2012, they worked with 416 businesses providing over 3,000 hours of assistance using a network of private sector consultants and partnerships with local economic development organizations. "Our economic development partners and consultants are excellent at working with our small business clients to identify key issues that need to be addressed to help a business grow" Bergman says, " they have years of experience and specialized education to bring to each consulting relationship." Funds granted to the college will be used to leverage other grant funding and donations received by the college for the SBDC program to provide small business assistance services.
For more about the CLC Small Business Development Center contact Greg Bergman, Regional Director at 218-855-8145.