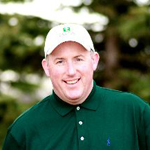 Central Lakes College recently hired Chris Foley as head coach of the Raiders men's and women's golf teams. Foley is the owner and operator of Chris Foley Golf Schools and the Director of Instruction at The Legacy Courses at Cragun's in Brainerd, MN. He is also a Head Coach for the USA Junior National Team.
Prior to his present position Chris served as the Director of Golf at The Members Club in Columbia, SC. and spent fourteen years as the head golf professional at Madden's on Gull Lake in Brainerd, MN. It was at Madden's, that he founded Chris Foley Golf Schools. The golf instructional school was the only one of its kind in the Brainerd Lakes area and under Foley's leadership experienced tremendous growth.
Chris' instructional programs have helped golfers of all ability levels play better golf and increase their enjoyment of the game. Through extensive use of the most technologically advanced video equipment, teaching aids, and club fitting, Foley emphasizes making each student's golf swing as efficient as possible.
The Minnesota Section PGA named Chris its "Teacher of the Year" in 2002. In 2001, Chris was awarded a Specialty Certification in Teaching (PGA Master Professional), one of only fifty nationwide and three in Minnesota. He was named the Second Best Teacher in Minnesota in 2005 by Golf Digest Magazine. In 2005, Golf Magazine listed Chris at one of the Top Teachers in the Region. In addition, he was named to T&L Golf's MASTER CLASS of Teaching Pros in America. Chris was also the 2004 Callaway Golf Club Fitter of the Year. Chris is also a Level 1 Certified Hank Haney Instructor and one of only six teachers certified in Laser Optics Putting.
••••••••••••••••••••••••••••••••••••••••••••••••••••••••••••••••••••••••••••••••••••••••••••••••••
Coach Foley will be holding open tryouts for the Raiders men's and women's golf teams. An informational meeting will be held on Monday, August 26 at 4 pm at Cragun's Legacy Courses Clubhouse. Practice for the 2013 season begins on Tuesday, August 27.
Benefits for CLC Raider golfers include:
• playing golf with great coaching five to six days a week
• home course – Cragun's Legacy Courses
• playing some of the great courses in Minnesota — Giants Ridge, The Wildness, The Jewel, House on the Rock
• coached by one of the top golf instructors in the Midwest – Chris Foley, PGA Master Professional
• access the best golf learning technology – TrackMan, JC Video, Tomi Putt, PGA Tour Simulator,
Hi speed video cameras
• Team uniforms, bags, golf balls
The first tournament for the Raiders 2013 golf season is on September 8-9 at Giant's Ridge in Biwabik, MN.