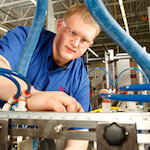 During the past year Central Lakes College (CLC) has been gearing up for fall 2013 and the first courses in the Advanced Manufacturing Education (AME) program on both the Brainerd and Staples Campuses.
CLC is using the AME Grant to expand and improve programs that are currently available. The Associate in Applied Science Degree, Diploma, and Certificate programs include:
Applied Engineering, Machine Tool Technology-CNC, Machine Tool-Mold Making/Tool and Die, Manufacturing, Manufacturing Welding, Manufacturing Maintenance, Mechatronics. Robotics/Automated Systems Technology, Robotic Welding, and Welding & Fabrication.
CLC has also added sections to Welding, Machine Tool and the Robotics programs. Two additional instructors have been hired on CLC's Staples campus to allow more students to participate in these programs.
The new instructors are:
Robotics – Robert Lange
Lange is currently employed in Nebraska and will be moving back to the area. Originally from Hill City, he is a graduate of the CLC Robotics program and holds an AAS degree. He is also AWS welding certified and Fanuc master certified. As an alumnus, he is proud of the program and brings an enormous amount of industry experience including robotic welding which is one of the new certificate programs in the AME grant. His reputation in the global robotics field for troubleshooting and training make him a highly qualified instructor and resource for the program.
Machine Trades – Keith Hillstrom
Hillstrom is currently employed at a Machine/Tool & Die shop in Albertville. He is a graduate of the CLC Machining program and has a BS degree in Technology Management from St. Cloud State. Keith has a lot of experience with hard milling, mold making, advanced machining, and safety compliance. His background closely matches the new DOL supported advanced machine tooling program and continues the tradition of moving CLC programs forward with technology.
For Information Contact:
Julie Vreeland
CLC Business and Industry Center
218.855.8236